Children's Dentistry at Lightwood Dental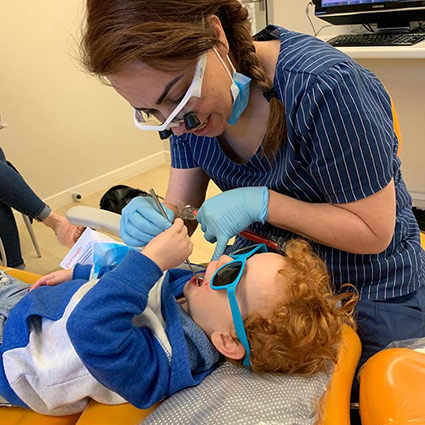 Your child's smile affects everything from their speech patterns to their self-esteem. Strong, healthy teeth are vital to proper orofacial development as children grow into adults.
As a family practice, we offer warm & attentive dental care to children of all ages. By establishing a positive experience early on in your child's life, our team can lessen the anxiety and fear that often accompanies infrequent visits to the dentist.
Prevention Focused Care for Children
Primary (baby) teeth tend to decay much quicker than stronger permanent ones. As such, we believe that preventative strategies and education are key to minimising common problems like cavities, abscesses and dental emergencies.
We recommend routine dental checkups every six months, which include appropriate services such as:
Comprehensive Exams: As we monitor the development of adult and baby teeth they are carefully screened for early signs of decay or infection, for more effective intervention.
Preventative Cleanings: A scale and clean removes build-up that is missed during day-to-day brushing and flossing.
Fissure Sealants: Prevent tooth decay by sealing out cavity-causing bacteria that settles in the deep grooves of back teeth.
Fluoride Treatment: Promotes stronger enamel that is resistant to decay and sensitivity.
Digital X-rays: High definition imaging of developing tooth structures and visualisation of cavities allow for earlier care, promoting better overall health.
Orthodontic Evaluations: The growth patterns of a child's teeth and jaws can indicate potential orthodontic complications that are yet to develop.
Restorative Treatments: Dental fillings, crowns and emergency care ensure your child's comfort and halt the spread of infection to other teeth.
Frequently Asked Questions
When should I schedule my child's first dental appointment?
To ensure your baby is set up for good oral health, we encourage parents to book an appointment when their first tooth erupts, or around their first birthday-whichever comes first.
What should I do if my child has a toothache?
This is dependent on the age. If your baby is teething, a cold compress may help soothe the entirely normal process. For older children, we recommend booking a visit with us so that we can examine their mouths and ensure everything is checked out. You may also try having them rinse their mouth with warm salt water.
Do you offer pediatric dental emergency services?
Absolutely. We're proud to offer emergency services for patients of all walks of life and age. If your child has knocked a tooth out, is experiencing a possible infection, or has tooth trauma, please, book a visit with us as quickly as possible.
My child uses a pacifier or sucks their thumb. Is this bad for their oral health?
Typically, this type of continued behaviour is only a problem if it continues for too long-in early years, it's entirely normal. However, if your child is still sucking their thumb or using a pacifier past age three, it can have an effect on their primary and potentially adult teeth. If this is the case for your child, contact us for more information or to schedule a visit to ensure their oral health remains in good shape.
How often should my child visit your practice?
Just as adults, we recommend that children visit us twice each year-once every six months. Their oral health his particularly important during their formative years, so let's be sure to encourage them that dental health is important for their future!
I've heard baby teeth aren't that important to care for. Is that true?
This is an unfortunate common myth. It's incredibly important to keep baby teeth healthy, even though they aren't permanent. Proper brushing and flossing techniques will help to ensure gum health, which is very important when permanent teeth come in. If a baby tooth rots, it's also possible for the adult tooth to become delayed or rotten itself. We encourage you to brush your baby's teeth twice a day just as you would your own, albeit using the proper toothbrush and paste.
What toothpaste should my child use?
We recommend using a toothpaste specifically formulated for young mouths and not giving your child adult toothpaste until their permanent teeth have come in. An anti-cavity toothpaste is a great starting point. You can also involve your child in picking out the flavour or brand so that they feel included, and may want to brush their teeth instead of feeling forced to.
Children's Dental Benefit Schedule (CDBS) Accepted
All children who qualify for Child Dental Benefit Schedule (CDBS) can receive up to $1,000 in dental services over the course of two years.
Schedule your child's next appointment or arrange for the entire family to be seen on the same day. We're open late and on weekends to lessen the impact on school and extracurricular activities. Contact us today!

Children's Dentistry Ferntree Gully, Knox City VIC | (03) 9758 2099