Family Orthodontics at Lightwood Dental
Complete Braces for Ferntree Gully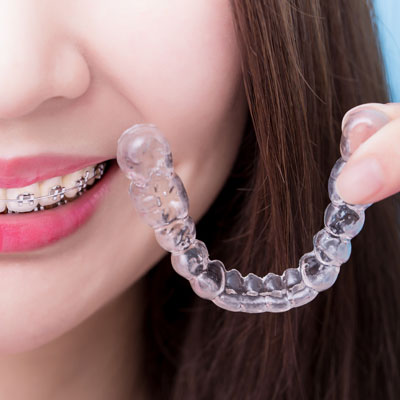 A misaligned bite isn't just an aesthetic challenge, it's a risk factor for your overall dental and overall health. When teeth bite together improperly due to gaps or crowding, it can lead to complications such as:
Worn or chipped tooth enamel
TMJ disorder
Headaches
Facial aesthetic challenges
Tooth decay
Periodontal disease
Fortunately, we're able to provide comprehensive braces and myofunctional therapy in our practice for your family's convenience.
Space Maintainers: Young children who have experienced premature tooth loss may benefit from interceptive orthodontic aids to encourage proper development and eruption of their adult teeth.
Myobrace®: Aligning the teeth and jaws can be done in as little as 1-2 hours per day (or while you sleep) with myofunctional techniques. Myobrace addresses oral habits that contribute to tooth alignment or make it worse.
Ceramic and Self-Litigating Braces: Damon orthodontics and ceramic braces provide comfortable, low-profile appliances that use memory shaped wires and gliding latch systems to reduce tension and discomfort with the benefit of a cosmetic design.
Orthotropics® Guidance: Discreet appliances train muscles for proper function (like swallowing) while guiding the direction of facial growth. Orthotropics is a non-surgical treatment that eliminates the need for headgear.
Clear Aligners: Instead of wearing fixed braces, clear alignment systems like Invisalign® and ClearCorrect® provide accurate results with removable trays that fit your on-the-go lifestyle.
What is Myofunctional Therapy?
By intervening during oral development, we are able to adjust problems that contribute to tooth crowding and misalignment.
Many malocclusions (misaligned jaws/teeth) are caused by concerns like mouth breathing, tongue thrusts and airway obstruction. Sorting through the factors that push teeth into the wrong position can prevent bite discrepancies in earlier stages of development.
Want to Learn More?
To learn more about our early intervention, growth modification and comprehensive braces for adults and children, schedule a consultation with Lightwood Dental.
BOOK ONLINE »

Orthodontics Ferntree Gully, Knox City VIC | (03) 9758 2099