Custom Mouthguards at Lightwood Dental
Protect Your Smile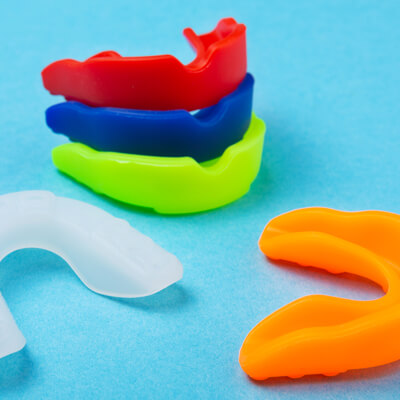 If you're involved in athletic activities, you know how easy it is to become injured. Some of the most common sports accidents that adults and children experience are to the mouth, head and neck. In some cases, the trauma results in broken teeth or a concussion.
How Can a Mouthguard Help?
Wearing a professionally fitted athletic mouthguard will help to reduce your risk of:
Knocked out (avulsed) teeth
Broken or impacted teeth
Concussions
Jaw fractures
How? Because the snugly designed mouthpiece is formed precisely to your individual dental anatomy. It stays securely in place should an accident occur, protecting you from a secondary injury or trauma. And yes, professionally made mouthguards may also reduce your risk of a concussion, because of the protection they offer to the jaw.
Although over-the-counter mouthguards usually meet athletic requirements, they do not provide the same level of protection as one made by a dentist. In general, stock guards tend to be loose & bulky which makes it easier for them to fall out & harder to drink with.
What to Expect
When you're ready to have a mouthguard made, call Lightwood Dental to book a consultation. During your visit we will take an impression of your upper teeth, which is used to create a form-fitting appliance made only for you. It will be ready to pick up and wear within a few days.
If we are making a mouthguard for your child or teen, the appliance will need to be remade each season to accommodate their jaw growth and tooth development.
Want to Learn More?
An athletic mouthguard is one of the best pieces of protective equipment that you can invest in. They're ideal for any type of contact sport, as well as individual activities (such as gymnastics). Contact us today to get yours!

Custom Mouthguards Ferntree Gully, Knox City VIC | (03) 9758 2099