Meet Dr Iram Hasan (Dentist)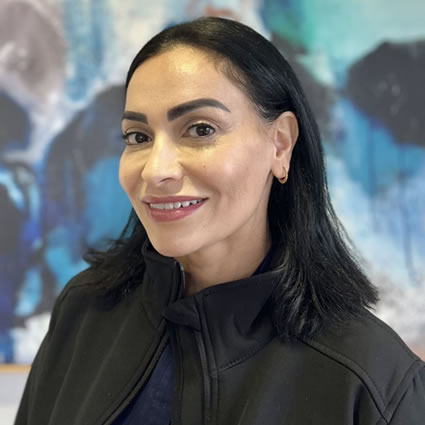 I am the owner and Principal Dentist here at Lightwood Dental. I started my career in 2000 and am fulfilling my vision to bring the best that dentistry has to offer to the community of Ferntree Gully since 2017. We have been growing ever since!
Although she grew up in a family of medical doctors, Dr Iram always wanted to pursue a career that allowed her to care for others and be artistic with her hands. Her first introduction to dentistry was when she got her teeth extracted at the age of six, and so impressed was she with the experience that she decided to be a dentist and has been passionate about oral health ever since.
Providing Comprehensive, Holistic Care
Her passions are in dental implants, clear aligners, cosmetics and full mouth rehabilitation. She also loves seeing kids for orthodontics. "We provide many onsite services, such as teeth whitening, digital scanning and digital radiology."
"I love helping my patients attain the best oral health they want and deserve." Her dedication to continuing education allows her to implement a holistic and wellness-centered approach to dentistry.
Dr Iram completed dental school while also providing care to her child. While some would find this task daunting, her dedication to both her child and her chosen career meant she was prepared to put in the long hours of hard work to follow her dream.
As she is committed to providing the highest quality of dental care to her patients, Dr Iram has attended many postgraduate dental courses and has the following qualifications:
2 years Comprehensive Orthodontics Training by Progressive Orthodontics Seminars USA (POS)
Dental Implantology Courses by Implantology Academy (DIO) implants
3 years Clinical Orthodontics mini-residency Grad Diploma (EODO)
Invisalign and ClearCorrect provider
Active member of the Australian Dental Association (ADA)
Dr Iram has a calm, gentle and compassionate manner. She believes the most critical aspect of successfully treating dental concerns is to create open lines of communication between her patients and herself. Dr Iram takes the time to listen and discuss your care. Doing so allows her to achieve optimal results when creating or enhancing your perfect smile by taking into account all your concerns. These could be fear and anxiety, costs or complexity of the procedures.
Her philosophy for treating everyone is to treat them as if she was in their shoes. "I would want to feel cared for, and have my concerns tended to, and have the high-quality treatment our practice provides." She believes in taking things at your pace and respects your wishes. You won't be pressured or upsold into services you don't want or need.
Outside the practice, Dr Iram enjoys playing badminton and spending weekends with her husband, three children, friends, and the family cats Popcorn and Pasha. She also enjoys cooking Indian food. Fundraising and working for refugee charities with her son are some of her other favourite activities.

Dr Iram Hasan | (03) 9758 2099