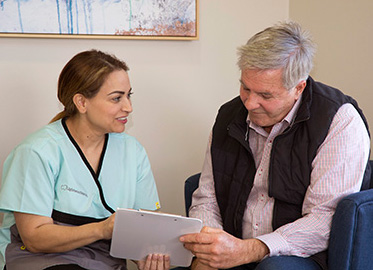 Perhaps you've been to other healthcare practices in the past where you were made to feel like a number and given cookie-cutter care—just like every other patient. That's not the case at Lightwood Dental.
We provide personalised oral health care to restore, strengthen and enhance the smiles of our patients in a relaxing manner that is patient-focused.
Here, your dentist will treat you like a valued member of our practice family. That's because you are!
Our Comprehensive Exam
Watch how thorough and personal our comprehensive exam is:

Patient View | Spear Education
New Patient Package for $170
Come and experience the difference at Lightwood Dental. Take advantage of our new patients offer.
For just $170, you will get a fully comprehensive 60-minute exam including all X-rays, assessment for cosmetic, orthodontic or implant treatment if you wish and a 30-minute follow-up consultation to discuss a treatment plan, if one is required.
A One-on-One Consultation
Before we examine your teeth, your dentist, either Dr Iram Hasan or Dr Denisa Selagea, will take the time to get to know you and your dental concerns and smile goals. This consultation is an excellent opportunity to discuss how you feel about your teeth and what you'd like to achieve.
The Dental Exam
So we can thoroughly assess the health, function and aesthetics of your teeth and smile, your dentist will examine the following:
The teeth including existing fillings
The gums, looking for gum and bone disease
The jaw joints, facial and surrounding muscles
Additionally, your dentist will perform a soft tissue exam and oral cancer screening. We will take digital x-rays to check for decay, disease, cracks and infection as well as digital photos (inside and outside the mouth).
The Treatment Discussion
By the end of your first visit, you will likely know the findings of your exam. If your case is complex, your dentist may need a little longer to think through your treatment or we may require further information. If a follow-up discussion is needed, there is no charge for it.
The treatment plan your dentist discusses with you will take care of your oral health needs and dental goals. You'll be provided information about the costs, the treatment details, the alternatives available to you, and the time frames involved.
Your Customised Treatment Plan
Based on the findings and your wishes, your dentist will provide you with a customised written plan of the treatment required and length of appointments. The plan will outline the procedures in stages or visits prioritising what's essential to you or urgent. It will also include any additional information that you may require to assist you in making decisions about your care.
Call today to get started!